0
How to configure Front integration (v1.x)
Front ( front.com ) is an inbox for teams. It brings all of your external messages, including emails to support@ or sales@, plus Twitter, Facebook, chat, and SMS, into one unified inbox.
The Forumbee plugin for Front makes it easy to browse your Forumbee knowledge base and send article links to customers when you are responding to their messages in Front.
These are the steps for configuring Front integration with plugin version 1.x. See this article for plugin version 2.x. If you are not sure of your version, contact your account manager or support@forumbee.com.
Step 1
In your Forumbee account, go to Admin > Integrations and select Front. Copy the URL provided on that page.
Step 2
In your Front account, go into your Settings and select Plugins & API. Click Add a plugin.
Step 3
For Name, enter Forumbee.
For Endpoint paste the URL you copied in Step 1.
For SDK version select Legacy (deprecated).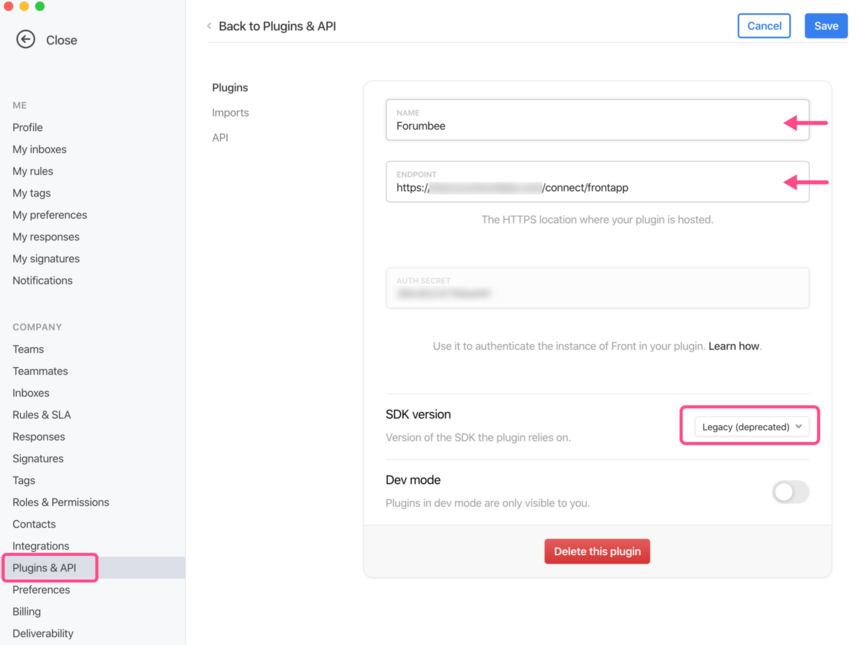 Step 4
Click Save. Your plugin is now configured!
Step 5
You can now search for Forumbee posts directly from Front and add them to your replies.
---
Note

The 1.x plugin supports searching for public articles and posts only. Plugin v2.x provides for support for private articles and the ability to browse and view articles in Front. We are happy to assist in upgrading your account to v2.x. Please contact your account manager or support@forumbee.com.
Hi there, I've enabled the integration between Front and Forumbee, however when I search for an article and select it, it copies the article's URL into the email body, not the article title like it does in your screencast gif. How can I update it so clicking on the article doesn't add the URL to the email body?