0
New: Moderation options, improved topic editor, SEO features
This week's update includes the following new features and bug fixes.
New moderation options
To provide more flexibility for managing users and posts according to your community needs, we've expanded the moderation settings.
Moderation can now be enabled for the first # of posts by new members. This allows you to review their initial activity, so they have a trial period before they are established as trustworthy. Read more...
If you have global moderation rules enabled, a new option provides the ability to trust individual members so they post freely. Read more...
Individual members can now have individual moderation settings. You can choose to moderate all posts by a specific user, or have their next # of posts be moderated. Read more...
SEO features
A sitemap file is now automatically generated and can be submitted to your Google Search console. Meta tags are configurable at the site level, and can be overridden for specific Categories and Topics. Read more...
Enhancements to the topic editor
The topic editor in the moderate area has been updated with several UI improvements for ease of use and efficiency.
The primary actions (Publish and Save Draft) are now in a fixed position at the bottom of the page so that they are always at hand where you need them.
The number of configurable topic options has grown, so we have made these into collapsible panels in the side column. It will remember which panels you have open the next time you return to the editor.
The full admin left navigation has been removed in Edit mode to de-clutter the view and make it easier to focus on writing.
The topic's category can now be changed while in the editor. Previously this option was only available outside of the editor from the cog menu.
The category name in the category selector now includes the full path including its parent sections. This makes it easier to recognize the category you are selecting.
Added a more prominent "Edit topic" button when viewing a topic in the Moderate area.
Fixed a bug that caused tags to be removed when you saved a draft.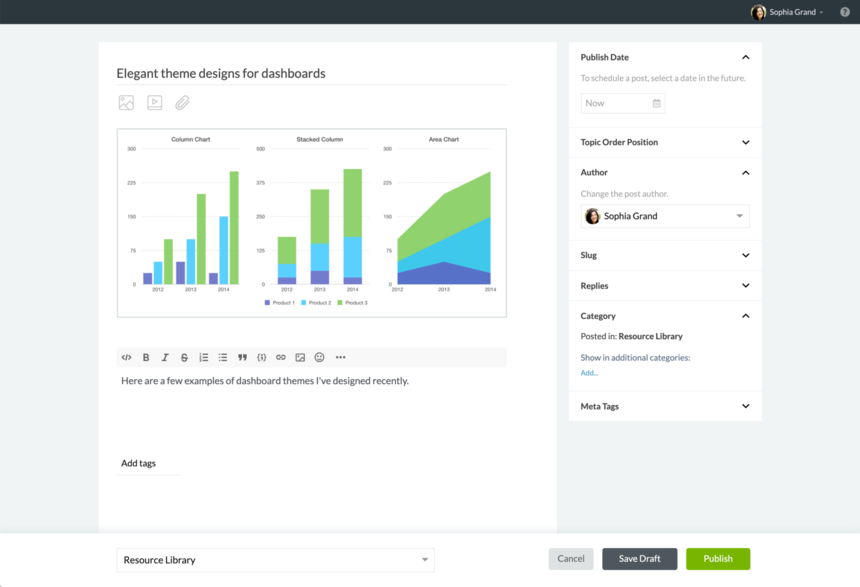 Misc improvements and bug fixes
Updated Admin with new icons
Fixed a bug where editing username would sometimes delete characters as you type
Fixed a bug that caused the Zendesk ticket to not be updated with new replies if the ticket status was Closed.
Fixed a bug that caused the Zendesk integration page to give an error when the connected user was removed in Zendesk
Fixed a bug where the video image didn't appear when sharing post on LinkedIn.
Fixed a bug that caused files with a "#" in the name to give an error when downloading.